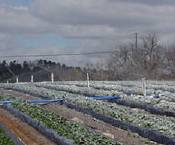 AWIS Freeze/Frost Fax and E-Mail Services
The AWIS Freeze/Frost forecast package is customized to provide you with the information you need to prepare for an upcoming cold event and make operational decisions during the event. After discussing your specific needs, we build a tailored set of forecast products for your unique situation. You get an easy to use briefing package that quickly tells you all you need to know. Have your personal weather briefing delivered to you each day via e-mail or fax.
Prices start at only $150/month. The final price will depend on any custom add-ons that are ordered. There's a three month minimum service required. Please Contact AWIS or call us Toll-Free at 1-888-798-9955 to get your free price quote.
Your Fax and E-Mail package Includes:
Exclusive AWIS Freeze/Frost Forecasts. This regional forecast alerts you to the possibility of a cold event and the potential severity. A quick glance will tell you what you need to know. Lowest temperatures, dewpoint and wet bulb ranges, average wind directions and speeds, sky conditions and duration ranges are forecast.
7-Day Detailed Forecast. Fine tune your cold protection methods with this forecast. It includes hourly forecasts of dry bulb temperature, wet bulb temperature, dewpoint, wind speed and direction, inversion strength and cloud cover.
7-Day Max/Min Temperature and Probability of Precipitation Forecast. A quick look at weather conditions for the next seven days, giving you an early indication of potential freezes and when rain may delay outdoor work.
Agricultural Weather Forecast. When no cold weather is in the forecast, the Agricultural Weather Forecast is packed full of information you can use to make daily operational decisions on your farm.
Here is a complete sample package for Florida growers. We also have a version intended for small fruit growers. We will customize it for your needs. The package will be sent every morning by about 5:30 AM Central Time. An update will sent at approximately 3:30 PM Central Time during a cold event.
Our packages are a bargain. A meteorologist must speak with you about your operation before initiating service. Contact AWIS or call us Toll-Free at 1-888-798-9955 to get your free price quote.
Contact AWIS
|
About Us