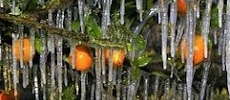 AWIS Freeze/Frost Alert Service
Do you have the time to constantly monitor the weather and how it may impact your operation? Are you a trained and experienced agricultural meteorologist? If not, let AWIS put an agricultural meteorologist on your staff and let us watch the weather for you. Your AWIS agricultural meteorologist will call you before cold events and give you a weather forecast tailored for your specific situation. We'll keep in touch with you all winter to monitor your crop progress and keep you informed of weather trends.
Our timely and accurate forecasts will save you time, labor and money. No more scrounging the TV, radio and Internet for confusing and conflicting information. You can make your preparations with confidence. Our agricultural meteorologists were trained in the old National Weather Service Agricultural Weather Program and have the knowledge and experience to provide you with the best service anywhere.
Much More than a Forecast...
You won't be caught off guard because your meteorologist will find you.
No more conflicting forecasts, we forecast for your operation and your situation.
You get help with operational decisions impacted by the weather.
If you operate your own temperature monitoring stations, we can develop a prediction model for your stations. This will improve forecast accuracy and reduce your risks.
All your weather questions will be answered by a seasoned agricultural meteorologist who understands cold protection techniques and knows your operation.
This service includes the Freeze/Frost/Ag Weather Web Service at no extra charge! You will also receive a custom forecast package by e-mail or fax as part of your service.
Can you afford this service? Yes! The question is, can you afford not to have this service? We will provide you with an exact quote after speaking with a meteorologist about your operation. The basic cost is only $450/month. The final price will depend on any custom add-ons that are ordered. There's a three month minimum service required. Contact AWIS or call us Toll-Free at 1-888-798-9955 to arrange for your free price quote. Due to the personal level of this service, we can only accept a limited number of clients. There are a few open slots available for this season, so secure your service now!
Contact AWIS
|
About Us